Northern Nevada welcomed 36 teams to a snowy, chilly spring morning. At least one golfer ditched his clubs for snowshoes and parkas, but everyone enjoyed the day at Red Hawk Golf and Resort in Sparks for the 5th Annual For Kids Foundation Charity Golf Event!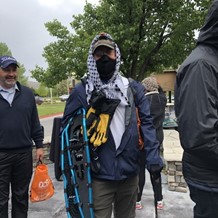 Since 2003 For Kids Foundation (a 501(c)(3) Nevada nonprofit organization) fills in the gaps created by other services/programs to provide funding for the urgent, unmet medical, dental, psychological/well-being, and educational needs of Northern Nevada children (from birth to age 21). We only assist when there is no other known resource.
Many local businesses sponsored the event starting with Title Sponsor SoL Cannabis. "SoL is a locally owned award-winning producer of artisan flowers, pure extracts and healthy edibles. At SoL, we believe when you combine the love of cannabis cultivation with natural sunlight and organic soil-based cultivation practices the result is superior. Come see our state-of-the-art facility and discover why we are unlike any other Reno cannabis dispensary!"
Other sponsors included Hole Sponsors: United Rentals, Fit Learning Center, Home Loans Reno, Flippins Trenching, Nextitle, Western Title Northern Nevada, Placer Electric, Restec; Putting Green Sponsors: Reno's Realtor–REMAX; and Swag Sponsors: Melaleuca, OCG Creative, Sage International, Sunteck Solar Screening, and Tilton's Therapy for Tots
Adding to the fun and excitement was a chance to win $10,000 cash prize for a hole in one.
David Dashiell II helped us again this year to capture our golfers with lasting photographic memories of the day which will be posted on our website as soon as they become available.
Included in the ticket price was a grab-and-go burrito breakfast, box lunch, and prizes. Lee Adams, Reno's Crazy '80s, broadcast live from the event to get us movin' and groovin'. And, the fun guys from Launching Fore Charity helped raise $877.50 with their cool ball-launching device.
First Place Tournament Winners each received $100 Amazon gift cards: Jacob Haas, Mike Fleiner, Justin Durant and Matt Frazer with a 52.
Raffle prizes were decoratively displayed, thanks to Board Member Tayona Tate (Sotheby's) basket-making skills. Donations were received from individuals and local businesses like Allie Berkowitz, Atlantis Resort and Spa, Beaujolais Bistro, Caliber Salon, Cold Stone Creamery, Fly High Trampoline, Grand Sierra, Healthy Tails, Junkee Clothing Exchange, Dr. Louis Bonaldi, Moana Nursery, Nevada Equine Assisted Therapy, Nugget, PBS Reno, Peppermill Reno, RC Willey, The Frame Shop at Lakeside, The Row, Trader Joe's, Yip Fitness, America Matters Media, and Yogurt Beach.
Cheri Hill, Madam Chair, sincerely thanks Kyle Robertson, Board Member and Golf Committee Chair, and, his fellow For Kids Foundation Board members (Lindsey York, Tayona Tate, Margaret Ciorciari, Greg Raleigh, Mike Norman, Mat Anderson, Pat Pieper, Allie Berkowitz, Randy Warner, and Cesar Quintanilla) as well as volunteers from around the community for all the hours and hard work it took to bring such a fun event to our community.
We need your help more than ever. We have already received 106 applications for assistance in 2021, awarding nearly $70,000 in products and services for No. Nevada's children, like these:
Social worker of a young boy (now under care of his elderly grandmother) asked for a basketball hoop for their driveway as a form of physical exercise and way to make friends with kids from the neighborhood after a year of isolation due to the pandemic.
Single Mom and casino worker asked for bringing bring orthodontia treatment fees, currently in arrears, up to date so child could continue treatment. Mom's hours had been cut which reduced her tips and she hadn't been able to her monthly payments for several months to orthodontist's office. We paid the fees to get her current so child could continue treatment.
Young parents of baby born with rare genetic disorder causing dwarfism and multiple spinal, cardiac, and pulmonary abnormalities asked for help paying airfare to the only children's hospital in the nation treating this rare condition. We approved the request to help child's team of doctors develop a long and arduous treatment plan.
Working parents without medical insurance asked for help paying surgical correction of their child's severe scoliosis which had progressed to the point of compromising the child's cardiovascular system. Traveling to nearest Shriner's Hospital in the winter months for pre- and postoperative treatment was not feasible for this family. With deep discount obtained from Access to HealthCare Network, we helped the family fill the gap to cover local surgeon's fees.
These are just some of the kids your dollars help!
We are already planning on an even bigger and better event in 2022, stating "After all, it is for the children." Stay tuned for details!  Interested sponsors/teams are encouraged to email annie@forkidsfoundation.org or call 775-741-5231 to reserve their spot now.