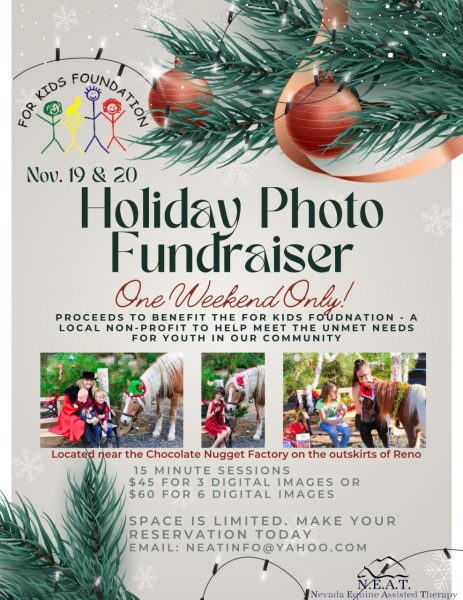 More than 12 years ago, For Kids Foundation became acquainted with Nevada Equine Assisted Therapy (NEAT). This unique form of therapy provides social, emotional, and behavioral growth through work with horses.
We believe in the work they do and the benefit equine-assisted therapy offers to our struggling children. In fact, in the past 4-1/2 years we have funded more than 705 hours of therapy for children to address anxiety, depression, mood dysregulation, anger, anorexia, and a host of other diagnoses.
In 2018 For Kids Foundation created a NEAT Scholarship Fund, specifically to provide scholarships for those kids and teens right here in Northern Nevada who would benefit from the work NEAT does but who do not have the financial means to participate in the program. We even hosted a live concert at Bartley Ranch in 2019 for this fund.
NEAT has created a "Holiday Photo Fundraiser" so children and their families can "play dress up" with the horses and capture the memories with a professional photographer for a nominal fee (ranging from $50 to $125). Proceeds from this event will go to the For Kids Foundation's NEAT Scholarship Fund.
The NEAT Ranch is located in Washoe City, near the Chocolate Nugget Candy Factory. The event is Saturday, November 19, and Sunday, November 20, 2022.
To reserve a date and time for your Holiday Photoshoot please contact NEAT directly. Space is limited, so make your reservations early!
Nevada Equine Assisted Therapy (NEAT)
Office Phone: 775-473-5548
Co-Founders, Bambi Spahr, QMHA & Laurie Roberts, QMHA
Email: neatinfo@yahoo.com
Website: http://nevadaequineassistedtherapy.com