Casual for a Cause
Fundraising Initiative Supporting the For Kids Foundation
Is your office looking for a way to boost morale and support a local nonprofit at no cost to your business? Then hang up your normal business attire one day week (or month) and support Casual for a Cause.
It's simple: For a small donation of $5/person, your employees are invited to dress casually any day that works for your business. Proceeds benefit vulnerable kids right here in Northern Nevada.
Details 
Businesses sign up to participate via this link: ___________________ 
You decide how often you want to participate (weekly, monthly, or even quarterly)
You choose the day of the week best for your office
You determine what is appropriate "casual" attire for your office
You decide if your business wants to match your employees' donations
Your office sends us a photo for us to share on social media on the days you participate
You send donations collected to For Kids Foundation (check, credit, or we'll come pick up the cash!)

For Kids Foundation will promote your business:

We add your company logo/contact info to the "Casual for a Cause" page on our website and social media channels
We provide your office with glossy poster to display on the days you choose to participate, letting your customers know how you support a local nonprofit
We promote your business with social media posts on the days you participate
We enter all participating businesses into a quarterly contest. The business with the most donations collected during a quarter wins free coffee and pastries or donuts (for up to 20), personally delivered to your office by a For Kids Foundation staff person or Board Member.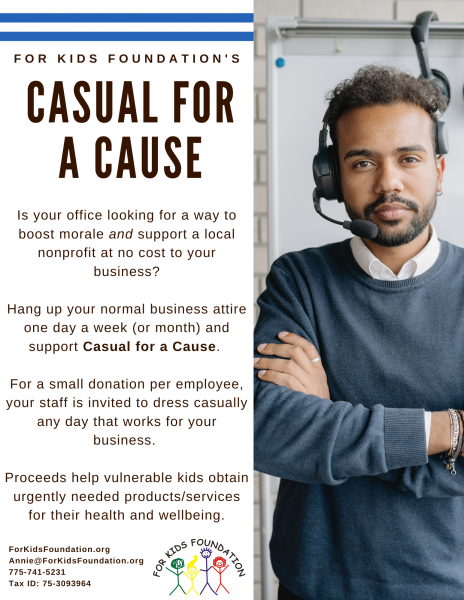 For Kids Foundation is a 501(c)3 nonprofit serving Northern Nevada. Since 2003, our Mission is to fill in the gaps created by other programs to fund the urgent, unmet needs of Northern Nevada most vulnerable children (from birth to age 21) when there is no other resource. Our Vision is to provide or align resources so every child can thrive. Participation in this fun initiative will help fund Program Awards for children in our community.
Now, let's have some fun and help our kids!
Annie Goni-Stewart, Executive Director