Carson City, Nevada, December 9-11, 2022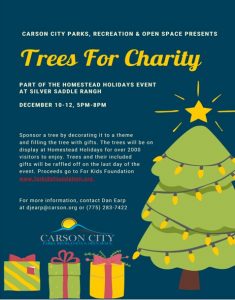 Thanks to For Kids Foundation Board Member Michelle Harrington, we have been chosen to receive proceeds from this year's Trees for Charity event at Homestead Holidays in Carson City, Nevada (a three-night event December 9-11, 2022).
Says Carson.org, "A new addition to the event this year: fresh Christmas trees, donated by the National Forest Service. Local businesses have sponsored the trees by decorating them and filling them with gifts. Look for the box next to each tree to place raffle tickets and see find a list of included gifts. Raffle tickets are $5/each or five for $25. All proceeds support the For Kids Foundation. Raffles will be sold at a table by the Red House and at the drink tent."
This three-night event includes photos with Santa (free and you can take your own); letters to Santa (some letters may even be published in carson now); Christmas craft market with local vendors' holiday wares available for purchase; more than two miles of lights to decorate the historic ranch buildings, fence lines, and trees; Carson City Library will read holiday-related stories from the main stage each evening at approximately 5:15 pm; the Friends of Silver Saddle Ranch will be running mule-driven wagon rides; and hot food and drinks will be available for purchase from various food vendors.
There is parking for approximately 150 cars at Silver Saddle Ranch and overflow parking at the 5th street trailhead and the new Eagle Valley Middle School parking lot right across the street from the trailhead parking.